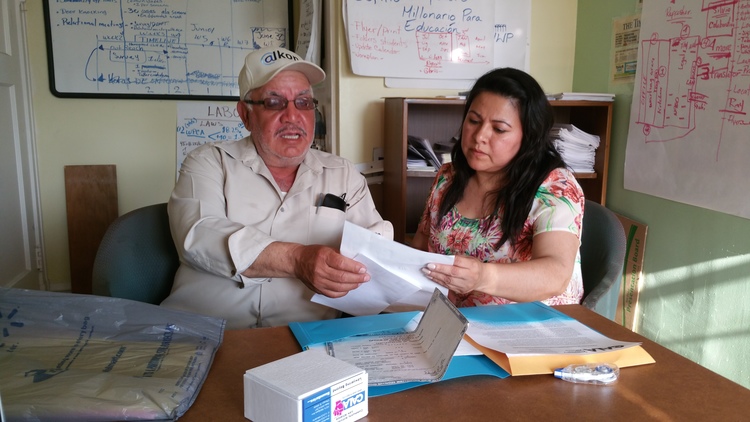 ---
Centro de Trabajadores Unidos: United Workers' Center conducts a free legal clinic for CTU members every Thursday in partnership with Beyond Legal Aid. Attorneys provide initial consultation in Spanish and English as well as legal representation depending on the type and nature of the case. To attend the legal clinic, community members must first participate in an orientation and become a member of the organization.  
BEYOND's model is community-based, community-collaborative and community-directed.
Beyond Legal Aid partners with organizations like CTU to develop activism based legal clinics in communities throughout the southeast side and south suburbs.  Through an empowerment based partnership model, CTU and BEYOND work to provide community members with much needed legal assistance while also supporting collective organizing actions and campaigns. In doing so, lawyers are shifting the way that legal aid is practiced and are developing a new paradigm for grassroots activism that is led by community and supported by legal action.
The CTU Legal Clinic is an advice and community legal education clinic in the Southeast Side and the South Suburbs of Chicago. The clinic aims to educate community members on their legal rights, how to advocate for themselves and provides legal services when a lawyer is necessary. All legal services, including full representation, are completely free of charge to community members. The clinic accepts community members dealing with criminal records, housing, immigration and employment issues.
We provide free and low cost legal assistance to those seeking information and looking for assistance with:
Wage Theft

Discrimination

Overtime

Sexual Harassment

Eviction

Reclaiming Housing Deposits

Foreclosures

Criminal Record Expungement

Adjustment of Status

Green Card Renewals

Removal Defense

DACA Applications and Renewals

Asylum

U-Visa

VAWA (for victims of domestic violence)

Bond Hearings
To sign up for our next organizational orientation and schedule an appointment in the legal clinic, please call:

Sarah Southey, Legal Clinic Coordinator, 773-909-3389