Spotlight ||

Chicago's South Suburbs on the Rise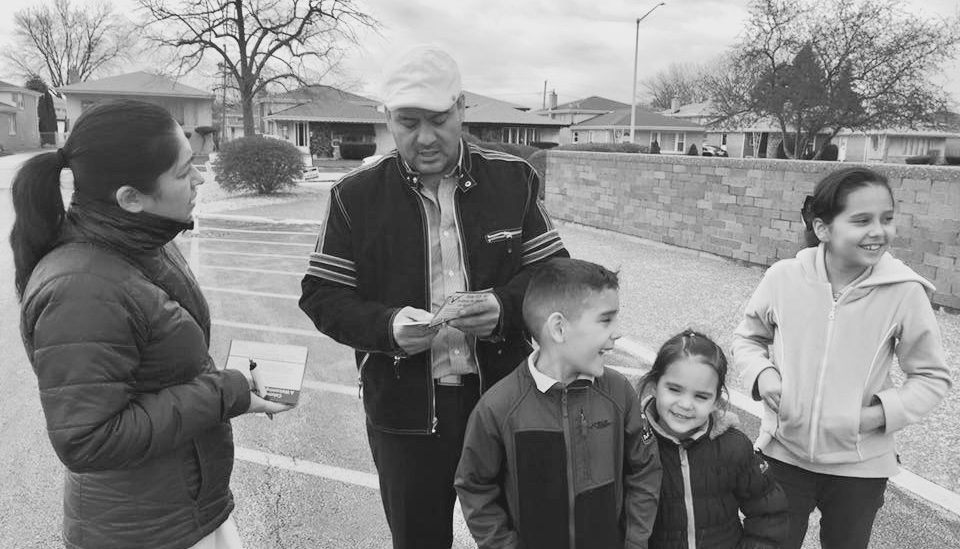 "But why the South Suburbs? Why are you there?"
This is a question we inevitably encounter whenever we speak about our work in Calumet City and surrounding suburbs. We politely answer, we're a grassroots worker center based on the southeast side of Chicago, humbly known as "Chicago's Best Kept Secret." Calumet City, Blue Island, and Harvey are among some of the suburbs closer to us than most areas people relate with Chicago. Our community is one that travels between the southeast side, south suburbs, and Indiana. The stark difference between minimum wages, sanctuary status, and workplace rights is something that never fails to come up during our meetings. When people ask us, "but why the south suburbs?" We think about our members who live and work across these communities. We think about Cecilia Guajardo, who first arrived to southeast Chicago and moved a decade later to Calumet City due to violence concerns. We think about the hundreds of families who have migrated to the south suburbs seeking better opportunities.
State of the South
Over the past decade, the influx of people of color to the south suburbs comes to no surprise for many housing advocates. Many families of color looking to buy a home were steered to "diverse" communities in a practice called redlining. "The clear correlation between areas of substantial minority homeownership, the clustering of high cost subprime lending, and high rates of default/foreclosures in the South Suburbs is extremely dramatic."¹ In 2008, the South Suburbs had the highest rate of foreclosures in the entire metropolitan area. Redlining, predatory lending, and discrimination in banking and housing leads to "segregation on the basis of race and class and results in inequitable opportunities for education and other public services, job prospects and even health outcomes".²
Housing foreclosures is not the only place the south suburban cook county leads. According to the CCDPH Community Health Status Report 2010, "the South and West districts were hit hardest with median unemployment around 12% and nearly 30% of the population living at less than 200% of the federal poverty level."³ Unemployment rate for Blue Island, Calumet City, and Harvey is respectively 13.4%,  15.2%, 22.7%.4-5 All three suburbs are predominantly African-American and Latino highlighting the greatest inequality resides in communities of color.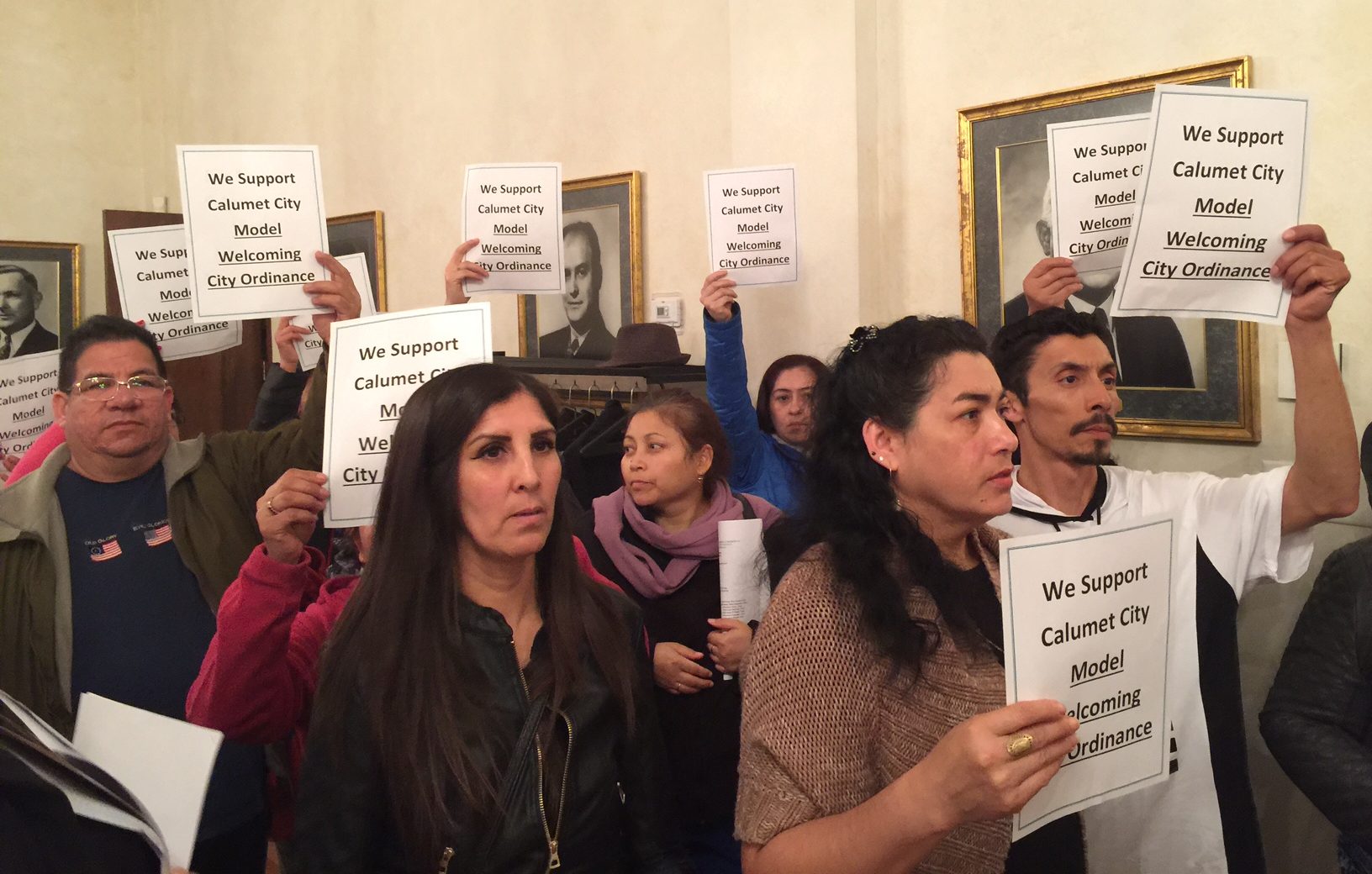 The Fight for Expanded Sanctuary
For us, the journey towards justice has been decades long. It's a journey that is expanding and growing stronger. Our fight for expanded sanctuary includes building a community in which everyone feels safe. We seek to create a safe and welcoming community for all residents in southeast Chicago and south suburbs. We seek to foster partnerships to build strong local economies with equitable wages, pass Welcoming City Ordinances,  and address police accountability and environmental concerns. As we approach our 10th year anniversary, we understand that now, more than ever, we must build strong Black and Brown alliances and seek justice regionally and across the sectors and issues that impact our lives.

Calumet City and One Fair Wage
This past April, 82% of voters in Calumet City voted in favor of raising the minimum wage to $15 by 2020 in an advisory referendum. Tipped workers are frequently left out of minimum wage increases and in putting the referendum on the ballot, Calumet City became the first city in Illinois to vote on one fair wage for all workers. This was an uplifting win after six months of door-knocking to collect over 1,400 petition signatures to place this referendum question on the ballot. 
Unfortunately, despite the referendum results, just days before the July 1st Cook County Minimum Wage increase was set to take effect, Calumet City's Mayor quietly pushed for City Council to vote in favor of opting out of the minimum wage increase. In response, CTU, Southsiders Organized for Unity and Libertation (SOUL) and ROC quickly began organizing workers and residents to inform them that the city had opted out. With the help of Calumet City workers and community members, CTU, SOUL, ROC and the Collaborative for Health Equity Cook County shut down the following city council meeting and demanded that the city respect the voters and increase the minimum wage.
"There are thousands of other mothers and fathers across Calumet City, the county and the state who are in the same situation right now. We all deserve respect and dignity. We work hard and are out here trying to support ourselves and our families. We're asking that we be paid a living wage." – Saydeth Valentin
But our fight is far from over. We are still waiting to for an ordinance to pass reflecting the referendum language. We will continue to voice our concerns and to organize till Calumet City becomes a Welcoming City for immigrants and workers.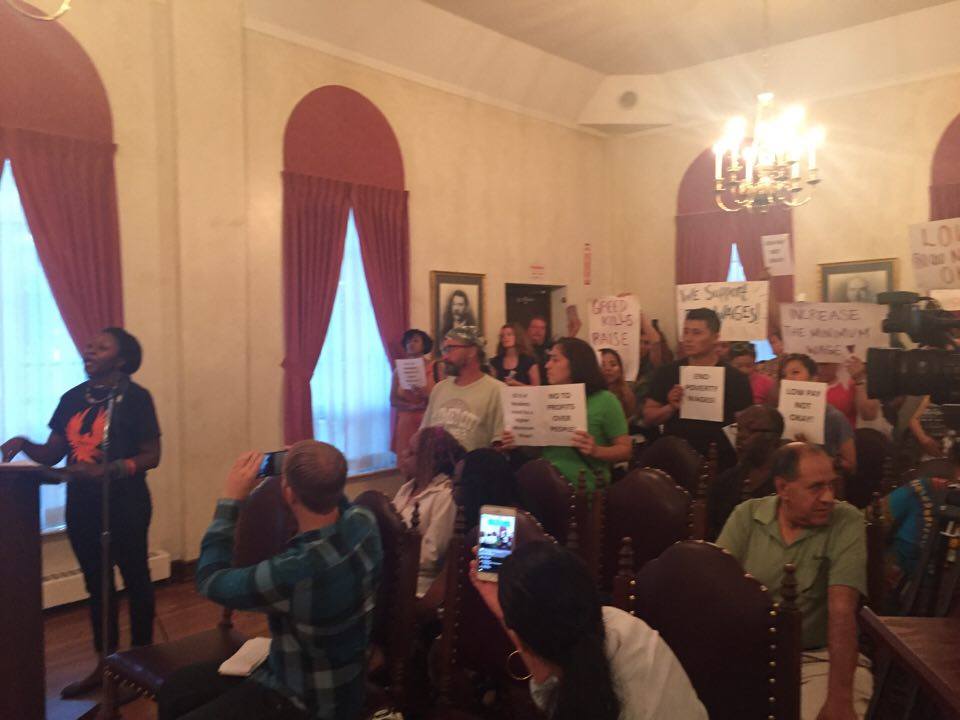 For more pictures of our action, click here.
Footnotes
John Petruszak, "South Suburban Chicago Foreclosure Crisis Case Study: Where the Dots Connect," The John Marshall Law School Fair & Affordable Housing Commentary, (2010).
http://www.metroplanning.org/costofsegregation/default.aspx?utm_source=%2fcostofsegregation&utm_medium=web&utm_campaign=redirect
http://www.cookcountypublichealth.org/files/data-and-reports/chsa/CHSA%20Section%201.pdf
https://factfinder.census.gov/faces/tableservices/jsf/pages/productview.xhtml?pid=DEC_10_DP_DPDP1&src=pt
http://www.cookcountypublichealth.org/files/data-and-reports/chsa/CHSA%20Section%201.pdf